Nelly Size Guide
Size guide - Clothes
| | EU | UK | US | FR/ES | AT | JAP | IT |
| --- | --- | --- | --- | --- | --- | --- | --- |
| | | | | | | | |
| XS | 32 | 4 | 0 | 34 | 4 | 3 | 36 |
| XS/S | 34 | 6 | 2 | 36 | 6 | 5 | 38 |
| S | 36 | 8 | 4 | 38 | 8 | 7 | 40 |
| S | 38 | 10 | 6 | 40 | 10 | 9 | 42 |
| M | 40 | 12 | 8 | 42 | 12 | 11 | 44 |
| L | 42 | 14 | 10 | 44 | 14 | 13 | 46 |
| XL | 44 | 16 | 12 | 46 | 16 | 15 | 48 |
| XL | 46 | 18 | 14 | 48 | 18 | 17 | 50 |
| | | |
| --- | --- | --- |
| cm | cm | cm |
| 74-78 | 58-62 | 83-87 |
| 78-82 | 62-66 | 87-91 |
| 82-86 | 66-70 | 91-95 |
| 86-90 | 70-74 | 95-99 |
| 90-94 | 74-78 | 99-103 |
| 94-98 | 78-82 | 103-107 |
| 98-102 | 82-86 | 107-111 |
| 102-106 | 86-90 | 111-115 |
| Size | | | |
| --- | --- | --- | --- |
| | cm | cm | cm |
| XXS | 67-73 | 51-57 | 76-82 |
| XS | 74-81 | 58-64 | 83-89 |
| S | 82-87 | 65-71 | 90-96 |
| M | 88-93 | 72-78 | 97-103 |
| L | 94-99 | 79-85 | 104-110 |
| XL | 100-106 | 86-92 | 111-117 |
| XXL | 107-113 | 93-99 | 118-124 |
Size guide - Trousers
| | EU | UK | US | FR/ES | AT | JAP | IT |
| --- | --- | --- | --- | --- | --- | --- | --- |
| | | | | | | | |
| XS | 32 | 4 | 0 | 34 | 4 | 3 | 36 |
| XS/S | 34 | 6 | 2 | 36 | 6 | 5 | 38 |
| S | 34/36 | 6/8 | 2/4 | 36/38 | 6/8 | 5/7 | 38/40 |
| S | 36 | 8 | 4 | 38 | 8 | 7 | 40 |
| S/M | 38 | 10 | 6 | 40 | 10 | 9 | 42 |
| M | 38/40 | 10/12 | 6/8 | 40/42 | 10/12 | 9/11 | 42/44 |
| M | 40 | 12 | 8 | 42 | 12 | 11 | 44 |
| M/L | 42 | 14 | 10 | 44 | 14 | 13 | 46 |
| L | 42 | 14 | 10 | 44 | 14 | 13 | 46 |
| Waist size | | Length | |
| --- | --- | --- | --- |
| in | cm | in | cm |
| 24" | 61 | 30" | 74 |
| 25" | 64 | 32" | 79 |
| 26" | 66 | 34" | 84 |
| 27" | 69 | 36" | 89 |
| 28" | 71 | | |
| 29" | 74 | | |
| 30" | 76 | | |
| 31" | 79 | | |
| 32" | 81 | | |
Size guide - Shoes
| | | | | | | | | | | | | | | | | |
| --- | --- | --- | --- | --- | --- | --- | --- | --- | --- | --- | --- | --- | --- | --- | --- | --- |
| EU | | 35 | 35,5 | 36 | 36,5 | 37 | 37,5 | 38 | 38,5 | 39, | 39,5 | 40 | 40,5 | 41 | 41,5 | 42 |
| UK | | 2 | 2,5 | 3 | 3,5 | 4 | 4,5 | 5 | 5,5 | 6 | 6,5 | 7 | 7,5 | 8 | 8,5 | 9 |
| US | | 4,5 | 5 | 5,5 | 6 | 6,5 | 7 | 7,5 | 8 | 8,5 | 9 | 9,5 | 10 | 10,5 | 11 | 11,5 |
| | cm | 22,3 | 22,6 | 22,9 | 23,3 | 23,6 | 23,9 | 24,3 | 24,6 | 24,9 | 25,3 | 25,6 | 25,9 | 26,3 | 26,6 | 26,9 |
Conversion Guide - Bra
| EU | UK | US | FR | IT | AT |
| --- | --- | --- | --- | --- | --- |
| 65A | 30A | 30A | 80A | 0A | 8A |
| 65B | 30B | 30B | 80B | 0B | 8B |
| 65C | 30C | 30C | 80C | 0C | 8C |
| 65D | 30D | 30D | 80D | 0D | 8D |
| 65DD/E | 30DD | 30DD/E | 80E | 0DD | 8E |
| 65F | 30E | 30DDD/F | 80F | 0E | 8F |
| 65G | 30F | 30G | 80G | 0F | 8G |
| 65H | 30G | 30H | 80H | 0G | 8H |
| 65I | 30H | 30I | 80I | 0H | 8I |
| 70A | 32A | 32A | 85A | 1A | 10A |
| 70B | 32B | 32B | 85B | 1B | 10B |
| 70C | 32C | 32C | 85C | 1C | 10C |
| 70D | 32D | 32D | 85D | 1D | 10D |
| 70DD/E | 32DD | 32DD/E | 85E | 1DD | 10E |
| 70F | 32E | 32DDD/F | 85F | 1E | 10F |
| 70G | 32F | 32G | 85G | 1F | 10G |
| 70H | 32G | 32H | 85H | 1G | 10H |
| 70I | 32H | 32I | 85I | 1H | 10I |
| 75A | 34A | 34A | 90A | 2A | 12A |
| 75B | 34B | 34B | 90B | 2B | 12B |
| 75C | 34C | 34C | 90C | 2C | 12C |
| 75D | 34D | 34D | 90D | 2D | 12D |
| 75DD/E | 34DD | 34DD/E | 90E | 2DD | 12E |
| 75F | 34E | 34DDD/F | 90F | 2E | 12F |
| 75G | 34F | 34G | 90G | 2F | 12G |
| 75H | 34G | 34H | 90H | 2G | 12H |
| 75I | 34H | 34I | 90I | 2H | 12I |
| 80A | 36A | 36A | 95A | 3A | 14A |
| 80B | 36B | 36B | 95B | 3B | 14B |
| 80C | 36C | 36C | 95C | 3C | 14C |
| 80D | 36D | 36D | 95D | 3D | 14D |
| 80DD/E | 36DD | 36DD/E | 95E | 3DD | 14E |
| 80F | 36E | 36DDD/F | 95F | 3E | 14F |
| 80G | 36F | 36G | 95G | 3F | 14G |
| 80H | 36G | 36H | 95H | 3G | 14H |
| 80I | 36H | 36I | 95I | 3H | 14I |
| 85A | 38A | 38A | 100A | 4A | 16A |
| 85B | 38B | 38B | 100B | 4B | 16B |
| 85C | 38C | 38C | 100C | 4C | 16C |
| 85D | 38D | 38D | 100D | 4D | 16D |
| 85DD/E | 38DD | 38DD/E | 100E | 4DD | 16E |
| 85F | 38E | 38DDD/E | 100F | 4E | 16F |
| 85G | 38F | 38G | 100G | 4F | 16G |
| 85H | 38G | 38H | 100H | 4G | 16H |
| 85I | 38H | 38I | 100I | 4H | 16I |
Size guide - How to measure your body
a) Bust: Measure circumference of the bust at the largest point with a bra on.
b) Measuring under the bust: Measuring under the bust is necessary when purchasing a bra. Take the smallest measurement as possible.
c) Waist: Take the measurement at the most narrow point of the waist.
d) Hips: Take the measurement at the widest point over the hips.
e) Inner leg: Measure from the groin to the floor.
f) Foot measurement: The shoe measurement is from the inside of the shoe therefore the foot measurement should be 0.5 -1 cm less than the shoe measurement.

Size guide - This is how you measure your bra size
How do you choose the correct bra size?
Measurement Measure bust straight across at the largest point. In our table below you can see which size you are. TIP! Wrong cup size? Keep in mind that cup size increases as the measurement increases. Therefore if your measurements increase you may need to choose a smaller cup size.
Measurement Take the measurement right under the bust.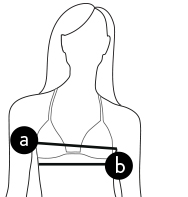 Measurement b
63-67
68-72
73-77
78-82
83-87
88-92
93-97
98-102
103-107
Bra size
65
70
75
80
85
90
95
100
105
Measurement a
aa
75-77
80-82
85-87
90-92
95-97
100-102
105-107
110-112
115-117
a
77-79
82-84
87-89
92-94
97-99
102-104
107-109
112-114
117-119
b
79-81
84-86
89-91
94-96
99-101
104-106
109-111
114-116
119-121
c
81-83
86-88
91-93
96-98
101-103
106-108
111-113
116-118
121-123
d
83-85
88-90
93-97
98-100
103-105
108-110
113-115
118-120
123-125
dd/e
85-87
90-92
95-97
100-102
105-107
110-112
115-117
120-122
125-127
f
87-89
92-94
97-99
102-104
107-109
112-114
117-119
122-124
127-129